In the dynamic world of Web3, Fuse Network is leading the charge in Account Abstraction (AA). Bridging the gap between the complexities of cryptocurrency and the ease of mainstream Web3 payments and transactions.
Founded in 2019, Fuse has been diligently crafting a payment stack optimized for mainstream usage and designed to provide an open-source platform for businesses aiming to embrace Web3 payments.
Moreover, by carefully weaving an intricate technology layer, Fuse allows for a smooth user experience that hides the complex technical aspects typically associated with crypto payments.
Understanding Fuse's Tech Solutions
The Fuse network operates on a Layer 1 Ethereum Virtual Machine (EVM)-compatible blockchain, providing a seamless platform for migrating existing applications from the Ethereum network or other EVM-compatible networks.
Known for its swift performance. The Fuse blockchain achieves a sub-5-second average block generation time, with transactions costing as little as $0.001. The native token is FUSE.
Fuse has developed an SDK and API to empower businesses further. Allowing companies to conveniently integrate Web3 services and crypto payments into their existing applications. This toolkit significantly reduces development costs and provides a straightforward pathway toward app enhancement.
The Fuse Mobile Stack also allows businesses to build mobile-first applications for iOS and Android platforms. This stack enables small and medium enterprises (SMBs) to innovate their next app with Web3 capabilities powered by the Fuse Network. Or upgrade their existing apps using the Fuse Flutter SDK.
Fuse and Account Abstraction (AA): A Pioneering Journey
Fuse has pioneered implementing Account Abstraction (AA) since 2019, based on Argent smart contracts (link to the Repository). These smart contracts are integrated into the Fuse SDK and APIs, allowing Fuse's business customers, also known as Operators, to utilize these capabilities within their wallet applications.
After three years, Fuse's AA has been adopted by approximately 180,000 users and is currently active in over half a dozen applications running with our AA framework.
Fuse's Account Abstraction Features
Fuse's AA framework provides a non-custodial smart contract wallet for user accounts. The wallet is controlled by an EOA, with cryptographic keys securely stored on the user's device. Users can use the Fuse-SDK to control the wallet with web3auth. Eliminating the need for constant awareness of their private key (PK).
Should a PK be lost, users can recover it from a backup cloud or restore access to their wallet account through guardians. Furthermore, Fuse's AA provides relaying transactions, allowing for gasless transactions with gas costs covered by the Fuse APIs. Additional features include transaction rate limits.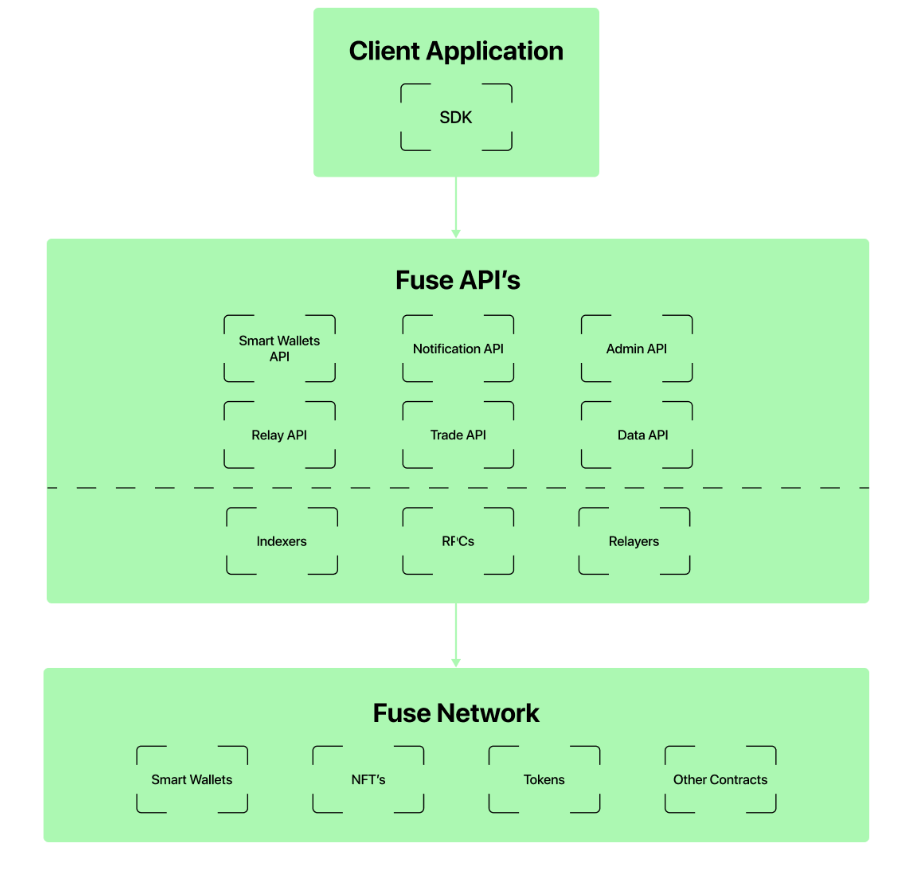 Fuse's Account Abstraction Future Roadmap
As of 2023, Fuse is testing and researching the implementation of ERC4337 for transaction relaying and bundling and introducing a new relaying entity, Power Validators. Other exciting features include introducing recurring payments and further integrating the AA framework across the Fuse stack, including the SDK and API for developers and Fuse products like Staking and the Developers dApp.
As we look ahead into the first half of 2024, Fuse aims to expand its AA features to include wallet recovery, spending limits, multiple owners, session keys, two-factor authentication (2FA), customer protection, transaction batching, gas sponsorship, recurring payments, shielded transactions, and enhanced bridging and ramping.
In-summary
As a leader in the field, Fuse is steadfast in its commitment to leveraging the full potential of account abstraction. Its pioneering efforts drive the evolution of user-friendly Web3 payments. With a persistent focus on optimizing user experience and streamlining business operations. Stay tuned to witness how Fuse continues to break boundaries in this dynamic space.