Bitazza started life as a centralized cryptocurrency exchange in Thailand but sets its sites as a gateway for crypto adoption in South East Asia and beyond, especially for retail and Web3 payments. The centerpiece of the Bitazza value proposition is their Freedom wallet, a mobile wallet running on Fuse Network, built using Charge's API. 
Starting with a successful Proof of Concept at the Mystic Valley Music Festival, Bitazza was one of Fuse's earliest partners, and the collaboration has expanded over time. Bitazza uses Charge and the Fuse Network blockchain to enable partner businesses to launch and manage token communities for their use cases and onboard users via Freedom Wallet, which uses Fuse's wallet technology. 
What is Bitazza?
Bitazza consists of four critical components, laid out in their whitepaper, that offers a complete solution for businesses to embrace Web3 payments. At the heart of the offer lies the regulated, centralized Bitazza cryptocurrency exchange with around $6 million trading volume to date and Thai baht (THB) trading pairs.
A two-token structure consisting of BTZ, Bitazza's utility token, and USDF, Bitazza's fully backed USD-pegged stablecoin, is traded against several other assets. Moreover, the USD-pegged stablecoin allows businesses to leverage crypto payments without suffering from market turbulence.
Bitazza's Freedom Wallet is a mobile wallet running on Fuse built on Charge's APIs and clearly shows the Fuse platform's power. Freedom Wallet is a loyalty-driven Web3 wallet that provides businesses and communities simplified access to blockchain technology.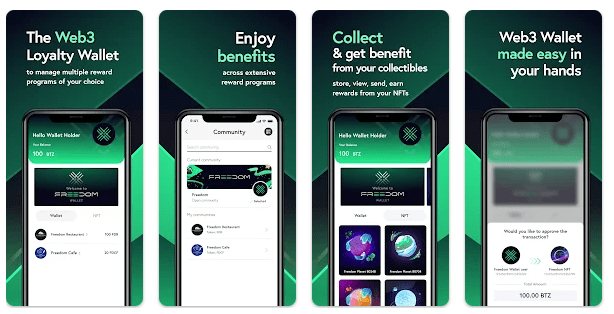 A single entry point to a loyalty network enables businesses to supercharge their loyalty strategy, accommodate end-users to use their loyalty points, and improve retention. In addition, the platform allows users to efficiently manage multiple membership programs in one app with transparency, a ready-to-use solution, and an enhanced experience.
Last but in no way least, complimenting all this is the Freedom Card. A competitor to platforms such as Crypto.com or Plutus, the card is powered by Visa and lets users top up with fiat or crypto balances and spend in the real world. Alongside a raft of benefits and perks available to holders, cardholders can stake an amount of crypto and be eligible for up to 9% cashback. 
Business adoption is coming
Accepting payments is a complex and expensive process for many small to medium-sized businesses and communities. Moreover, a high barrier of entry for companies accessing digital payments is restricting global trade and innovation.
Bitazza is aggressively targeting those businesses that need Web3 payments to increase efficiency but lack the technical knowledge to benefit. Fuse believes that mass adoption of crypto payments will be jump-started by the longtail of business rather than by everyday people using on-chain services. 
These real-world examples show how Fuse technology, coupled with Bitazza's aggressive onboarding of small to medium businesses in South East Asia, can pave the way to adoption.
One of Thailand's leading music festivals implemented a blockchain-based cashless payment system for the first time. Instead of cash, festival-goers could make payments using a specific cryptocurrency token minted by Mystic Valley. The contactless payment system, which used existing mobile devices, dealt with all the financial transactions on-site, including payments made to food and drinks vendors and merchandisers.
Along the same lines, EPIC Entertainment, a prolific electronic music promoter in Thailand, utilized Bitazza's Freedom Wallet to throw a pool party that generated over 600 wallets and more than 500 transactions with the custom EPIC token.
Further applications came recently with World Cup Betting via the Freedom Cup, where around 400 participants made NFT-powered predictions for the FIFA 2022 Word Cup matches. In addition, tourists to Thailand and locals that use the Raja Ferry, one of the leading providers of ferry services in Thailand, with 13 vessels traveling between the popular destinations of Donsak, Koh Samui, and Koh Phangan, can use the Freedom Wallet, and RAJA token for payments.
Fuse + Bitazza = Adoption
Bitazza is Fuse's key partner and integrator in the South East Asian region, a part of the world with more than 326 million smartphone users. Adoption via smartphones and mobile devices is critical and can be considered the holy grail in Web3.
Bitazza uses Charge and the Fuse Network blockchain to build its flagship products and enable businesses to launch and manage token environments for their specific needs and onboard users via the Freedom Wallet, which utilizes Fuse's wallet technology.
Additionally, Bitazza has recently listed the FUSE token on its exchange Bitazza Global with several trading pairs, including FUSE/USDT, and FUSE/THB.