The Fuse Bridge Campaign is not just your typical DeFi promotion; it's an opportunity to bring together the Fuse community and reward active participants. But first, let's break down what the campaign is all about.
What you need to know:
Participants must complete tasks on the Web3 rewards platform Intract.
The campaign starts on 22nd Sep 2023, 03:00 PM, and ends on 2nd Oct 2023, 10:00 PM (UTC).
Participate and stand a chance among 100 lucky winners to share $5,000 in FUSE.
Complete terms and conditions are available here.
We recently teamed up with leading interoperability protocol LayerZero & blockchain security firm Ironblocks to deliver the new Fuse token bridge. The campaign offers early-adaptors a unique opportunity to bridge their assets from other networks to Fuse, benefiting from its technology and ecosystem.
As a user, your participation in this campaign can be rewarding. Now, let's talk about the exciting part – the prizes! $5,000 in Fuse will be distributed among 100 winners in a lucky draw conducted by Intract. Furthermore, during this phase, there will be ZERO bridge fees.
How to Participate
We teamed up with Intract to deliver the Fuse token bridge campaign, and participants need to visit the dedicated page and complete the tasks to be eligible to win:
Follow @fuse_network on Twitter
Retweet a Tweet
Join Fuse Telegram community
Join Fuse Discord server
Bridge at least $50 worth of FUSE, USDC, or WETH to Fuse using the Token Bridge from any of these chains: Polygon, Arbitrum, and Optimism.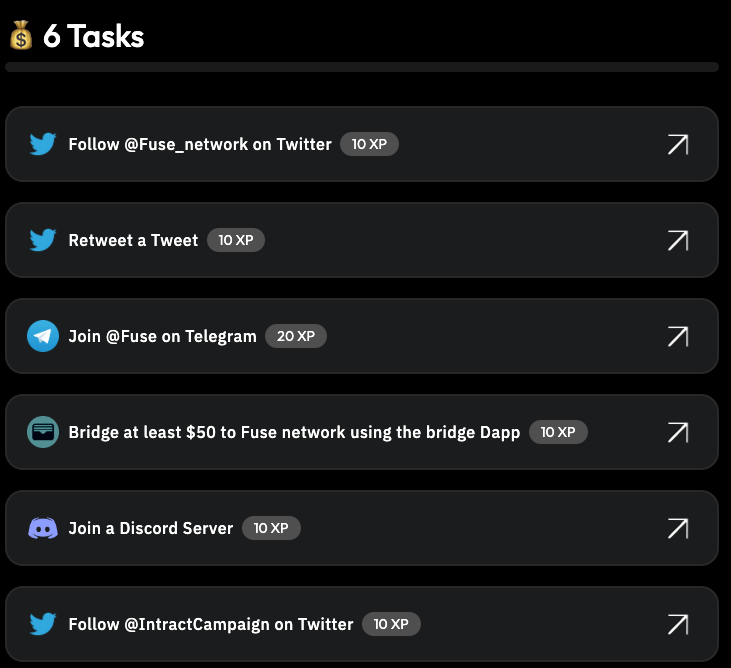 Note: When bridging USDC or WETH to Fuse, you must add a new token contract address to your wallet to see the UDSC v2 and WETH v2 balances displayed on the Fuse network. The new USDC and WETH token addresses are:
USDC: 0x28C3d1cD466Ba22f6cae51b1a4692a831696391A
WETH: 0x5622F6dC93e08a8b717B149677930C38d5d50682
Finish the tasks outlined above using Intract and get into the pool to win a share of $5,000 in FUSE. Remember, the campaign ends on 2nd Oct 2023, 10:00 PM (UTC). Good luck!
Using Fuse Token Bridge Guide
Risk Warning: Digital asset prices can be volatile. The value of your investment may go down or up, and you may not get back the amount invested. You are solely responsible for your investment decisions, and Fuse is not liable for any losses you may incur. Crypto trading, in particular, is subject to high market risk and price volatility. Before trading, you should make an independent assessment of the appropriateness of the transaction in light of your objectives and circumstances, including the risks and potential benefits. Consult your advisers where appropriate. This information should not be construed as financial or investment advice.