Following the soft launch and success of the VOLT beta app in September 2022, the team is excited to announce they are ready to onboard a broader range of users to embrace DeFi on mobile.
With more than 90% of the global population owning and accessing goods and services on a mobile device, the new VOLT DeFi app is ideally designed to engage those most curious about the benefits of decentralized finance.
With VOLT, there will be no more toiling over DeFi's complex apps and convoluted procedures. Instead, with the VOLT app, users can access all things DeFi with just a few clicks. All through a minimalistic and straightforward mobile interface.
A lethal combination of self-custody, security, gasless transactions, and simple UX makes the VOLT app a compelling choice for new entrants to DeFi. Let's unpack some of the critical features of the latest mobile DeFi app.
Join us for Fuse meets Voltage LIVE on Twitter and YouTube | Thursday, 26th January 2023.
What makes the VOLT app great?
Non-custodial: Take control of your crypto — "not your keys, not your crypto." FTX's recent scandal serves as a reminder of the importance of having complete control of your funds.
Gasless transactions: Get ready to experience DeFi without paying network fees for your transactions. Voltage DAO covers it for you.
Send and receive funds from phone contacts: No more copy-pasting long-character wallet addresses. Instead, you can send payments with ease. Imagine the VOLT app as the Venmo alternative! Extremely easy to use, fast and secure.
Buy & sell crypto in local currency: Easily buy and sell cryptocurrency with our selection of the world's leading fiat on-ramps. Whether you want to purchase crypto or convert your existing digital assets to your local currency, we make it a seamless process with just a few clicks.
Never lose funds: The Volt app offers multiple options for securely backing up your recovery file, including the traditional seed phrase method and a cloud backup on your Google Drive. Additionally, you can enhance the security of your Volt app with biometric fingerprint mapping.
How to get on the waitlist in two minutes
Don't miss the chance to get onboarded onto the VOLT app. The team will select users every week to ensure a smooth process. Find out how to join the waiting list to secure your spot and receive rewards.
1. Click here to sign up for the waitlist.
2. Download and open the App, then follow those three simple steps.
3. Follow the confirmation instructions, and you're all set up.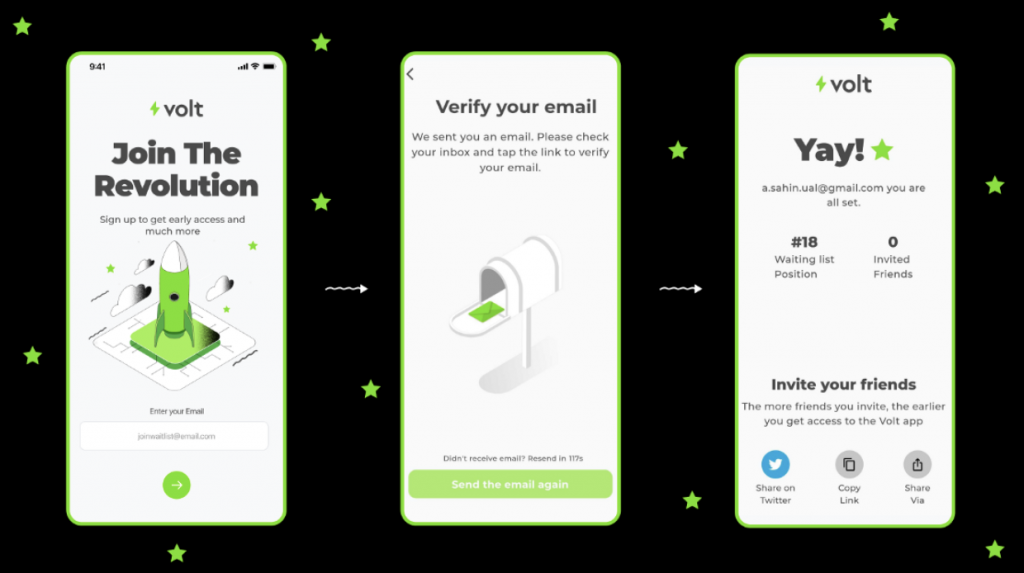 A custom referral link is sent to early adopters of the VOLT app to share with friends or post on social media. The more people you invite to try the VOLT app, the more chance you'll have of moving up on the waitlist and winning a share of the $2,000 giveaway by being a top referer.
As an additional bonus, If you're part of the first-month users, you get a SoulBound token as an early bird, making you eligible for future rewards.
Note 1: VOLT got you white-listed if you were already using the VOLT app.
Note 2: Are you still using the Fuse Cash app? It's important to note that this app is now outdated, and it's time to migrate your funds to the new Volt app.
VOLT is just getting started
The VOLT app is your new gateway to the world of decentralized finance. Moreover, Voltage has plans to continually enhance the app with even more features, such as staking, farming, governance, and more.
Download the app and join the waitlist today to participate in the reward program.