Request integrates with Fuse Network to simplify and revolutionize payment processing for businesses and merchants using crypto. This union is designed to overcome the myriad of challenges businesses face in adopting and utilizing cryptocurrencies, ensuring compliance while fostering efficiency.
Corporate entities around the globe are grappling with the intricate nature of integrating crypto into their daily operations. The necessity for meticulous documentation, precise reflection of transactions in accounts, and adherence to varying accounting standards poses considerable challenges.
The often volatile nature of crypto prices further complicates the conversion and denomination of payment records in fiat currencies, a requisite by accounting standards in numerous jurisdictions. This is often cited as a core reason businesses do not use crypto payments.
Request Finance is a blockchain-based suite of financial applications dedicated to crypto-first companies and catering to Web2 companies that want to embrace crypto payments. Its flagship product, Request Invoicing, empowers individuals, freelancers, small businesses, and organizations to create, store, and access invoices and receipts in a universal, decentralized network. Users can seamlessly send professional, secured, compliant invoices and receive payments in traditional and digital currencies on Fuse Network.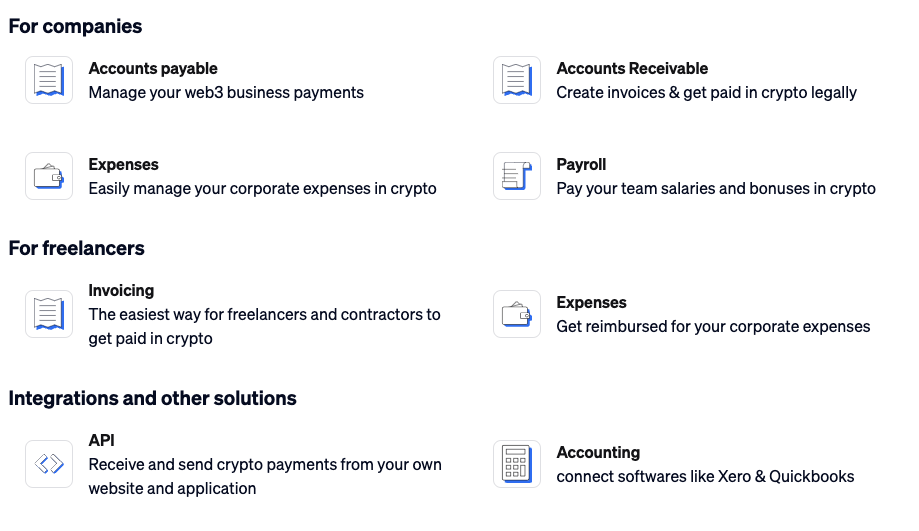 Crypto Payments Made Easy with Request Network
Renowned for its popularity among crypto companies, Request Network has successfully processed over US$100 million in transactions through its Invoicing app. It serves a clientele including notable DeFi companies like Polygon, The Sandbox, AAVE, and MakerDAO.
The Invoicing app, a cornerstone of the project, facilitates the generation and payment of invoices in many cryptocurrencies, stablecoins, and fiat currencies. It's easy to start using Request and creating invoices on Fuse Network in FUSE or stablecoins such as USDC, USDT, and more currencies.
For off-ramping stablecoins such as USDC and USDT, you can use the Fuse Bridge to move funds to another network like Polygon, BNB Chain, or Ethereum.
Users can set up an account and quickly create a single or recurring invoice to be paid in cryptocurrencies on Fuse Network. An Escrow feature exists for clients to pay the invoice before work starts. The money will be locked in a smart contract until the job is done so that you will get paid.
The beauty of using Fuse to settle accounts is that transaction fees are extremely low (around $0.001). Furthermore, there is a growing global demand for alternative payment options as more people enter the workforce without a traditional bank account or access to financial services.
Decentralization and Transparency: Request Invoices
The strength of Request invoices lies in their decentralized storage, settlement, and tracking. Each invoice's information is securely stored on the xDAI blockchain, while additional data resides on IPFS, ensuring transparency and ease of tracking for issuers and counterparties alike. This decentralized approach mitigates errors and significantly streamlines the management and accounting of crypto payments for businesses to multiple stakeholders.
Integrating Fuse Network with Request's invoicing tool is a milestone, enabling seamless issuance and payment against invoices through the Fuse Network. Initially supporting invoices denominated in FUSE, USDC, and USDT tokens, this integration exemplifies simplicity and efficiency, with users and businesses quickly sending prefilled invoices and counterparties fulfilling them with minimal fees.
Anticipating the future, efforts are underway to broaden the spectrum of supported tokens on the Fuse Network and implement additional Request features.
Streamlining Crypto Payments for Business
This integration is not simply a technological advancement but a step forward in realizing the full potential of cryptocurrencies in the corporate landscape. As we continue to explore and expand, the promise of a more efficient, transparent, and innovative future in crypto payment processing becomes an attainable reality.
For further insights and to explore the potential of this integration, we invite you to visit Request. Finance.