Fuse Tokens exist on separate EVM-compatible networks. Currently, Fuse is available on Ethereum, BNB Chain, Polygon, and Fuse. This guide will look at how to get FUSE on Ethereum using the leading DEX Uniswap and then show you how to bridge those FUSE tokens to Fuse Network to enjoy almost zero gas fees and faster transactions.
Crypto tokens like FUSE, existing on multiple blockchains, offer several advantages. Firstly, these tokens can be easily transferred across different platforms and ecosystems by achieving interoperability and expanding their accessibility and user base. 
Furthermore, by providing tokens on multiple blockchains, projects can accommodate different user communities and allow them to interact with the tokens on their preferred blockchain, increasing user adoption and engagement.
Moreover, tokens on different blockchains can be listed on various decentralized and centralized exchanges, enhancing liquidity and trading options. Users can choose the most convenient and cost-effective trading platform or swap their tokens, improving market efficiency.
How to get FUSE tokens on Ethereum using Uniswap
To get FUSE tokens on Ethereum using Uniswap, follow the steps outlined below:
Visit Uniswap, a decentralized exchange, and connect your MetaMask wallet.
Double-check the token contract address. You can obtain the token address from Coingecko or other reliable sources.
FUSE on the Ethereum blockchain contract address is: 0x970b9bb2c0444f5e81e9d0efb84c8ccdcdcaf84d
Enter the number of tokens you wish to buy and confirm the swap transaction.
Add FUSE token to your MetaMask wallet:

If the FUSE token does not automatically appear in your MetaMask wallet, you can add it manually.
Go to the Custom Token tab in MetaMask and provide the contract address of the FUSE token: 0x970b9bb2c0444f5e81e9d0efb84c8ccdcdcaf84d
Add Fuse Network in MetaMask:

Configure the Fuse Network as a new network in your MetaMask wallet.
Use the following details to set up the network:
Go to the Custom RPC section in MetaMask and enter the provided details.
How to Transfer FUSE tokens from the Ethereum to Fuse Network:
If you have completed the above steps, you now have FUSE tokens on the Ethereum Network. However, you must bridge those to Fuse Network to participate in staking, yield farming, and other DeFi activities on Fuse.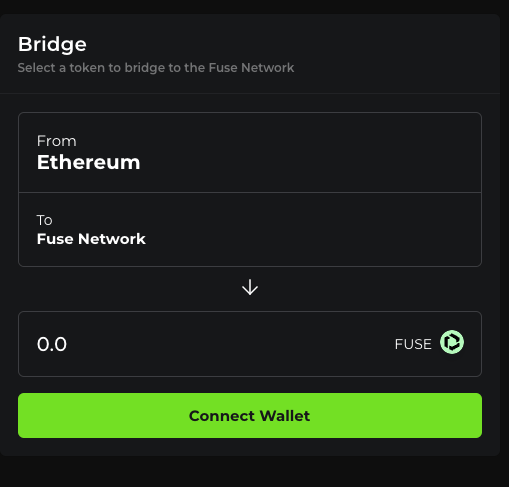 Visit the Voltage Finance Bridge and connect your MetaMask wallet. 

Ensure you are connected to the Ethereum network.
Enter the amount of FUSE tokens you want to transfer to the Fuse Network.
Follow the instructions on the bridge platform to complete the transfer process.
Add Fuse to your Metamask Wallet using the contract code: 0x0be9e53fd7edac9f859882afdda116645287c629. 
That's it; you're ready to use your FUSE tokens on Fuse Network. To learn more about how Fuse Network powers everyday blockchain payments, you can explore DeFi on Voltage Finance, NFTs, and digital collectibles on Artrific or the Fuse Ecosystem.