Fuse Network is pleased to announce the beta launch of its token bridge. Powered by LayerZero and monitored by blockchain security experts Ironblocks. The bridge facilitates FUSE, USDC, and WETH transfers between Fuse Network and Polygon, Optimism, and Arbitrum.
Crypto token bridges enable interoperability between different blockchain networks. They allow tokens and data to move seamlessly between otherwise isolated ecosystems. This interoperability is crucial for enhancing Fuse Networks' overall functionality and utility.
Key Features
Enhanced security measures through Ironblocks' monitoring and expertise.
Swap FUSE, USDC, and WETH seamlessly across chains, including Polygon, Arbitrum, and Optimism.
Swap from centralized exchanges, including Binance, KuKoin, Huobi, and Coinbase.
Lightning-fast transactions with LayerZero's technology.
Start using the bridge – https://bridge.fuse.io/
Things to Know
Currently, there are zero bridge fees on the Fuse Token Bridge.
Liquidity at this stage is minimal, so avoid trying to bridge substantial amounts.
Bridging between BNB Chain, Ethereum, and Fuse is available via the older, soon-to-be depreciated Voltage Finance bridge.
LayerSwap powers sending assets from centralized exchanges such as Binance, Coinbase, Huobi, and KuCoin and is linked.
You are advised to use caution and not to rely in any way on the constant correct functioning or performance of the products and/or accompanying products and services relating to this beta version.
A step-by-step guide and video tutorial for using the new bridge are here.
Powered by LayerZero
LayerZero is a leading interoperability protocol facilitating seamless connections between various blockchain networks. Their protocol leverages decentralized oracles and ultra-light nodes to facilitate communications between different networks without maintaining sequential block headers.
The method employed by LayerZero uses on-chain light nodes. It uses decentralized oracles to stream block headers on demand, so it doesn't need to keep all block headers sequentially. LayerZero uses this method to transfer messages between on-chain endpoints. The exchange is facilitated by two entities – an Oracle and a Relayer.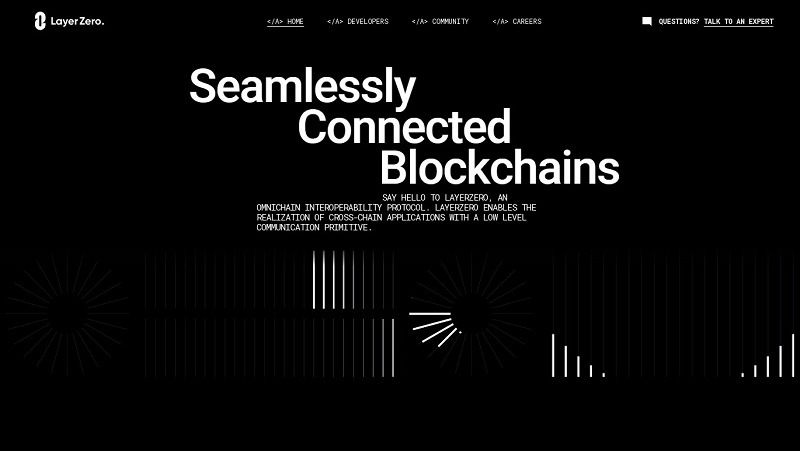 When sending a message from one chain to another, the origin chain's endpoint notifies the specified Oracle and Relayer of the message and its target chain. The Oracle then forwards the relevant block header to the target chain's endpoint, and the Relayer submits a transaction proof. Once that proof is validated on the target chain, the message can be sent to its designated address.
Among the advantages of this approach is the heightened security afforded by using an Oracle-Relayer pair. It enables the use of an established Oracle infrastructure, and the Relayer provides another level of protection. The Oracle and its corresponding Relayer must be compromised for a problem to occur.
With this, LayerZero joins that competitive environment, aiming to take things much further and create a proper omnichannel solution to serve as a base interoperability layer for the entire blockchain ecosystem. More importantly, this is not a theory. LayerZero technology is leveraged daily by dApp builders and projects in the Web3 space.
Security by IronBlocks
Ironblocks is an advanced real-time detection and prevention system that safeguards Web3 protocols, bridges, and other smart-contract-based projects from potential threats and malicious transactions. Ironblocks work with Fuse Network to monitor activity through the native token bridge to ensure any threats or malicious transactions are picked up, and the necessary actions are taken immediately.
Ironblocks is at the forefront of the fight against crypto-threats with a comprehensive array of detector sets and cutting-edge monitoring capabilities. Ironblocks offers peace of mind to businesses and individuals in the crypto space, allowing them to focus on growth and innovation rather than security concerns.
The system is already trusted by some of the largest entities in Web3, providing unparalleled protection to its clients, and Fuse Network is pleased to have Ironblcoks on board.
Coming Soon
Bridging from BNB Chain and Ethereum to Fuse, and vice versa, is currently available via the older, soon-to-be depreciated Voltage Finance bridge. Which is directly linked via the new bridge site for convenience, and complete guides on using the Voltage bridge can be found here.
Sending assets from centralized exchanges such as Binance, Coinbase, Huobi, and KuCoin is powered by LayerSwap—a leading solution designed for seamlessly transferring crypto assets across various centralized and decentralized exchanges, blockchains, and wallets, which is directly linked via the new bridge site for convenience, and complete guides available.
More additions and updates will arrive soon as we endeavor to offer more network interoperability and utility within the Fuse ecosystem. For now, please test and use the new Fuse token bridge.
Should you encounter any bugs, glitches, lack of functionality, or other problems on the beta website, please email us at bridge@fuse.io.