We are delighted to announce that Oracle provider SupraOracles has joined the Fuse ecosystem. As a result, developers can integrate SupraOracles price feeds into their Web3 apps and projects.
As more businesses and projects embrace decentralization and choose Fuse, the need for fast, secure, and reliable off-chain data through oracles is crucial to providing valuable features and widespread adoption. From DeFi to the metaverse, almost every digital project must be connected to other data sources.
Significant challenges currently faced by Oracles regarding speed, accuracy, security, and data finality mean developers in the blockchain industry consider most Oracles slow, unreliable, and insecure, hindering their effectiveness.
SupraOracles price feeds serve as a way to provide reliable and accurate real-world data, particularly for asset prices to smart contracts on a blockchain. Their unique solution provides cross-chain interoperability, 3.5-second finality, and cutting-edge cryptography to deliver the next generation of oracles in Web3.
How SupraOracles integrates Fuse
Fuse will now offer a seamless and constant cross-chain interoperability function due to SupraOracles' interoperable oracles. The first project to take full advantage is Mirakle, a forthcoming decentralized exchange launching on Fuse through the Voltage launchpad, focussed on spot and perpetual futures trading.
Price feeds are available for FUSE/USDT in the Fuse ecosystem, and almost 100 more token pair price feed contracts can be found here. Including popular pairs such as BTC/USDT, ETH/USDT, and BTC/USD. Use SupraOracle's comprehensive integration guide to connect to the relevant smart contract.
What are SupraOracles
Oracles connect decentralized applications, or Web3 apps as they are known, with external data sources, enabling smart contracts to access real-world information. SupraOracles infrastructure allows developers to securely connect their Web3 apps with timely and accurate data from other blockchains or real-world sources.
The team developed a novel Oracle solution with fast finality, enabling data transfer across chains in three to five seconds. This opens up various use cases, such as exotic derivatives backed by real-world assets, options markets, and multi-lateral clearing and settlement across public blockchains and networks.
SupraOracles has gained recognition for its approach and support from Web3 incubators like Mastercard's Start Path program, Berkeley Blockchain Xcelerator, and Plug and Play. The company's research team, led by Aniket Kate, a renowned figure in the field, has focused on fundamental principles such as data security, node decentralization, data provenance audit ability, and cost efficiency.
SupraOracles continues to execute on their roadmap as they release Oracle and VRf services on the mainnet. Furthermore, their Project Blast Off learn-and-earn platform is live with a community airdrop program. They actively engage with the developer community and have an early-bird incentive program to empower builders using their Oracle service.
Verifiable Random Function (VRF)
VRFs enable the generation of pseudorandom numbers that can be cryptographically verified. They are commonly used in on-chain applications such as gaming, NFT minting, lotteries, and randomized processes. It could be a dynamic NFT mint, loot boxes, random opponent pairing, randomized spawn environments, an in-game item upgrade, and more.
Supra's VRF can provide the exact properties required for a random number generator (RNG) to be fair. With tamper-proof, unbiased, and cryptographically verifiable random numbers. Employed by smart contracts, opening the door to new and exciting dApps on Fuse.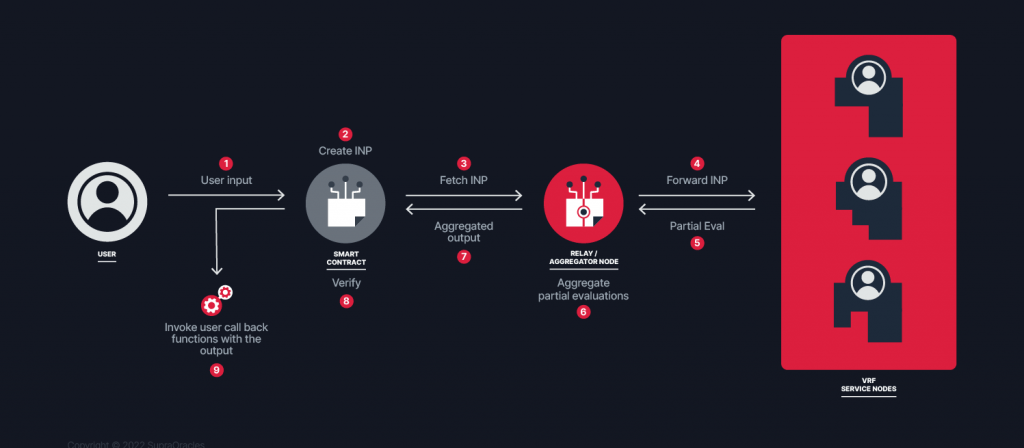 We welcome the addition of SupraOracles to the Fuse Ecosystem. Developers can now integrate SupraOracles price feeds into their Web3 apps and projects. Use SupraOracle's comprehensive integration guide to connect to the relevant smart contracts.
Explore the Fuse Ecosystem and find products and solutions to enhance your development journey and Web3 apps.