In the ever-expanding world of cryptocurrencies, storing your digital assets securely is paramount. As the decentralized finance (DeFi) sector continues to flourish, non-custodial Web3 wallets have become popular for individuals seeking complete ownership and control over their crypto holdings.
Unlike custodial Web3 wallets, which rely on third-party services to safeguard your assets, non-custodial wallets enable you to retain complete control by storing your private keys. This article will explore the advantages and disadvantages of non-custodial wallets and present some of the best options as of 2023.
Non-Custodial vs. Custodial Wallets: Understanding the Key Difference
The critical distinction between non-custodial and custodial crypto wallet solutions lies in ownership. As the name suggests, non-custodial wallets allow you to own your assets fully. These wallets serve as interfaces that facilitate easy and convenient access to your crypto while also accommodating third-party integrations.
On the other hand, custodial wallets are provided by companies that act as custodians, responsible for safeguarding and managing your crypto on your behalf. Centralized cryptocurrency exchanges often fall into this category, where they hold your funds and manage the private keys, thus assuming the role of custodians.
Recognizing the significance of owning your private keys in the crypto world is essential. As the industry says, "Not your keys, not your crypto" – a maxim that applies to all cryptocurrencies. Non-custodial wallets empower you to retain complete control and responsibility for storing and safeguarding your private keys.
However, it is crucial to acknowledge that this independence comes with inherent risks and challenges. If you lose your private keys, you also lose access to your funds, with no recourse from the crypto wallet provider.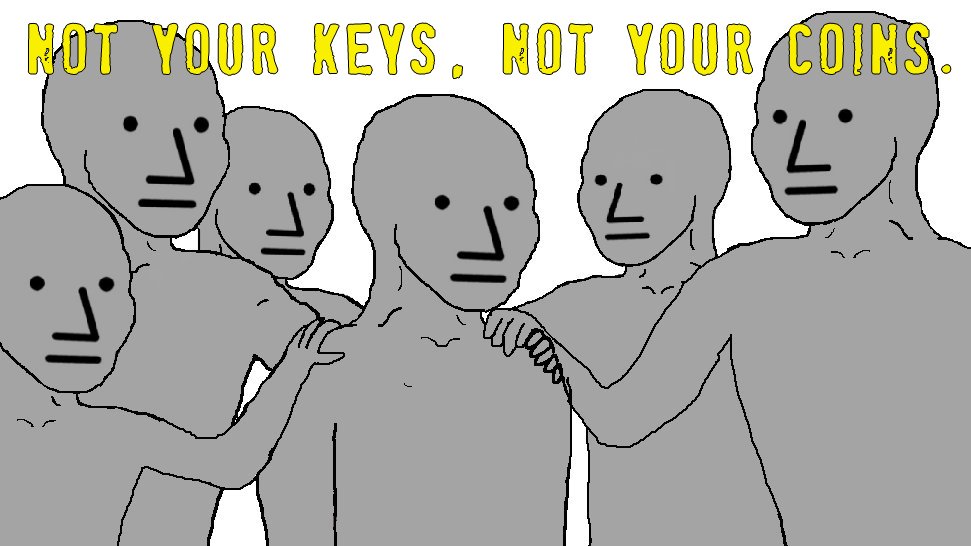 Best Non-Custodial Cryptocurrency Wallets in 2023
To help you navigate the landscape of non-custodial wallets, we have compiled a list of the top eight best options for 2023. These wallets have been chosen based on their features, security, user experience, and compatibility with popular cryptocurrencies and networks.
MetaMask
MetaMask is a veteran in the browser extensions' wallet field, launched in 2016 by ConsenSys, a market-leading blockchain technology company. It has gained immense popularity, particularly during the DeFi boom in 2020.
MetaMask allows users to create ERC-20-based wallets and integrates with various EVM networks like Fuse, BNB Chain, Polygon, Optimism, and Arbitrum. As a browser extension, it facilitates interaction with decentralized apps (dApps) built on Ethereum and EVM-compatible networks. It also has a mobile non-custodial crypto wallet app.
MetaMask ensures complete sovereignty over your assets by not retaining ownership or custody of your seed phrase and private keys. However, it exclusively supports the Ethereum blockchain and EVM-based networks.
Coinbase Wallet
Coinbase Wallet, developed by the leading US-based cryptocurrency exchange Coinbase, offers a familiar user experience while leveraging the reputation of the Coinbase brand.
Launched in 2018, it has gained recognition as one of the most user-friendly self-custody solutions. Coinbase Wallet supports Ethereum and all EVM-compatible blockchains, making it comparable to MetaMask.
Additionally, it supports Solana and SPL tokens. The wallet provides a fully-developed mobile application for seamless usability and extends its support to primary non-EVM compatible tokens like Bitcoin, Dogecoin, Litecoin, Ripple, and more. While Coinbase Wallet operates independently, it offers optional integration with Coinbase custodial accounts for asset transfers.
Phantom Non-Custodial Wallet
Phantom Wallet is a non-custodial Web3 wallet supporting Ethereum, Polygon, and Solana assets. It is also the most popular cryptocurrency wallet for the Solana blockchain. Limited in its application, unlike Metamask, it only supports a small range of blockchains or test networks.
However, their stripped-back and simple UI make it a favorite, with many that operate primarily inside the blockchain ecosystems its supports. To start with Phantom Wallet, you can download the Wallet extension from the official website. After installing the extension, you can create a new wallet and store your private keys.
Chainge Cross Chain Wallet
The Chainge non-custodial wallet gives users everything they expect from a non-custodial crypto wallet while offering more advanced trading features usually seen on centralized exchanges. Powered by the Fusion DCRM technology, Chainge provides cross-chain interoperability in the background, no matter what chain a user has their assets on.
The multichain DeFi platform supports more than 30 blockchains, including Fuse, which opens avenues for providing liquidity between chains and makes switching convenient and easy. Chainge aggregates multi-chain liquidity and lets users find and choose the highest liquidity and lowest fees.
Furthermore, if a user's token is split across chains, regardless of the number of chains used, Chainge can aggregate and swap the token in just one transaction, regardless of volume. So, for example, in one click, imagine exchanging USDC on THREE chains for ETH on Ethereum. While new users will probably be thinking, "yes, of course," they will never know the years of cross-network pain endured by early adopters.
Rainbow Mobile Wallet
Rainbow is a non-custodial mobile wallet for Ethereum that is available on iOS and currently in public beta on Android. It is non-custodial, meaning you control your private keys – and by extension – your funds. Rainbow is also open source, unlike most other mobile crypto wallets. One important thing to note is that Rainbow is a mobile-only wallet with no desktop app or service.
To start with Rainbow Wallet, you can download the app on your device (iOS / Android) and tap the "Get a new wallet" button to begin. You now have your first Ethereum wallet, but you need to back it up so you don't lose it.
Trust Wallet
Trust Wallet is an open-source and decentralized Web3 crypto wallet application that supports over 35 blockchains and over 160 digital assets. With its in-house buy, swap, and exchange features, Trust Wallet facilitates easy trading between cryptocurrencies or buying crypto with fiat.
It ensures privacy and security while allowing users to interact with dApps on Ethereum and 14 other EVM-compatible ecosystems. Trust Wallet is available across iOS, Android, and desktop devices. Trust Wallet was acquired by Binance, a leading cryptocurrency exchange, in July 2018.
MyEtherWallet (MEW)
MyEtherWallet (MEW) caters to users with a technical background, providing a free, client-side interface for interacting with the Ethereum blockchain. While it requires a slightly higher level of technical proficiency, MEW supports additional Ethereum-compatible networks such as Ethereum Classic (ETC), the BNB Chain, and Polygon.
MEW also offers cross-chain swap capabilities, allowing users to exchange between Ether and Bitcoin, Litecoin, or Dogecoin. It collaborates with decentralized exchange aggregators like 1inch to provide competitive swap rates. MEW is also available as a mobile application, offering flexibility to users.
Coinomi
Coinomi is a well-established multi-currency non-custodial crypto wallet serving users since 2014. Supporting approximately 125 networks and over 1,770 digital assets, Coinomi facilitates direct access to dApps, multiple Web3 projects, in-house exchange services, and token swaps. With its wide availability across various operating systems and devices, including Android, iOS, Windows, macOS, and Linux, Coinomi caters to a diverse user base. It also enables SegWit transfers for selected assets, ensuring lightweight and efficient transactions.
Exodus
Exodus is a multi-currency, non-custodial Web3 crypto wallet designed for Windows, Linux, Mac, Android, and iOS devices. Its user-friendly interface targets individuals new to cryptocurrencies, providing portfolio management and crypto exchange services within a single platform.
Supporting over 130 different cryptocurrencies, including BTC, ETH, BNB, SOL, and DOGE, Exodus ensures broad compatibility. It also allows users to earn a percentage of the profit when making crypto-to-crypto purchases, further enhancing its appeal.
BRD
BRD (formerly known as BreadWallet) distinguishes itself through simplicity and user-friendliness. It has an intuitive design and a built-in tutorial for new crypto investors. BRD supports significant cryptocurrencies, including BTC, ETH, BCH, XRP, and ERC-20 tokens.
Furthermore, it accepts payments for crypto purchases in over 35 fiat currencies. BRD implements advanced security measures, including AES hardware encryption, code signatures, Touch ID, and a 6-digit PIN, ensuring the protection of users' assets and personal information. BRD employs Simplified Payment Verification (SPV) to connect users to the Bitcoin network directly, enhancing transaction speed and security.
Choosing the Right Non-Custodial Web3 Wallet
Selecting the best non-custodial crypto wallet for your needs requires consideration of several factors, including your level of expertise, desired features, and preferred device compatibility.
If you are a beginner, wallets like Coinbase Wallet, Trust Wallet, or BRD offer user-friendly interfaces and extensive support. On the other hand, if you possess technical proficiency and seek advanced capabilities, a Web3 wallet like Metamask offers a good solution.
Good luck on your journey into Web3!